Barbera Cares and 102.9 WMGK Turkey Giveaway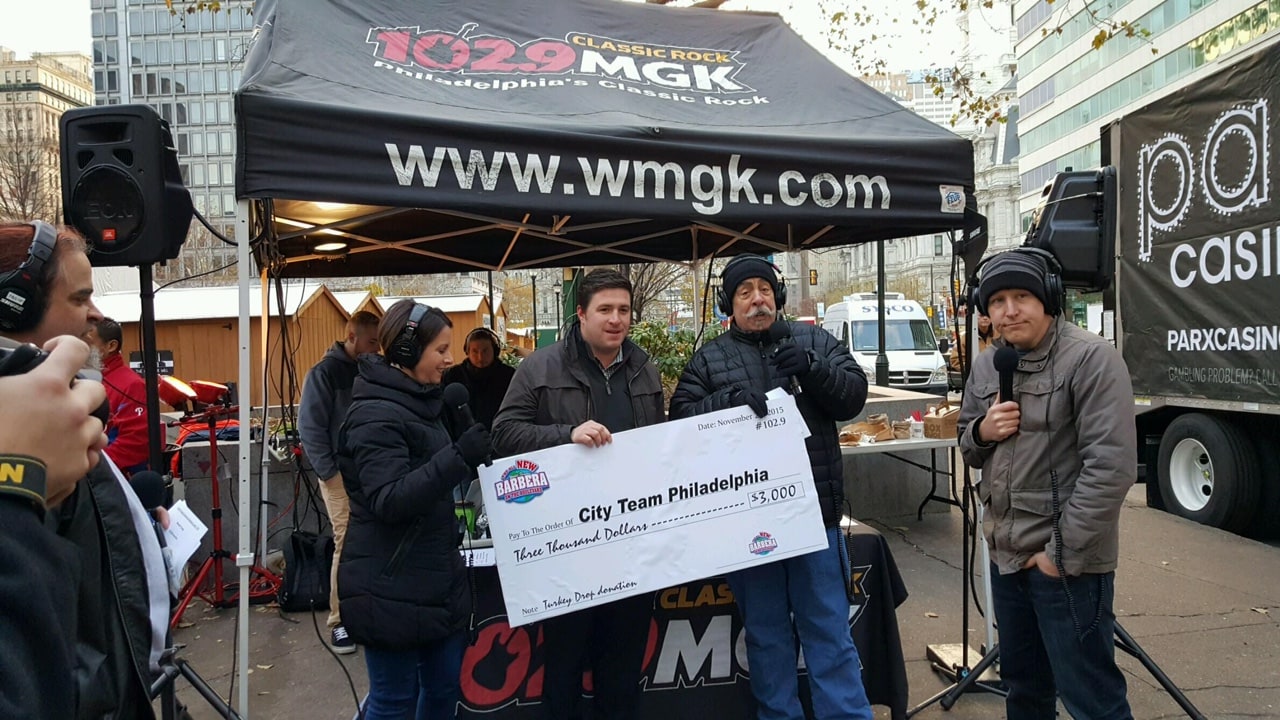 Barbera Cares & 92.5 XTU's
Student Athlete Of The Week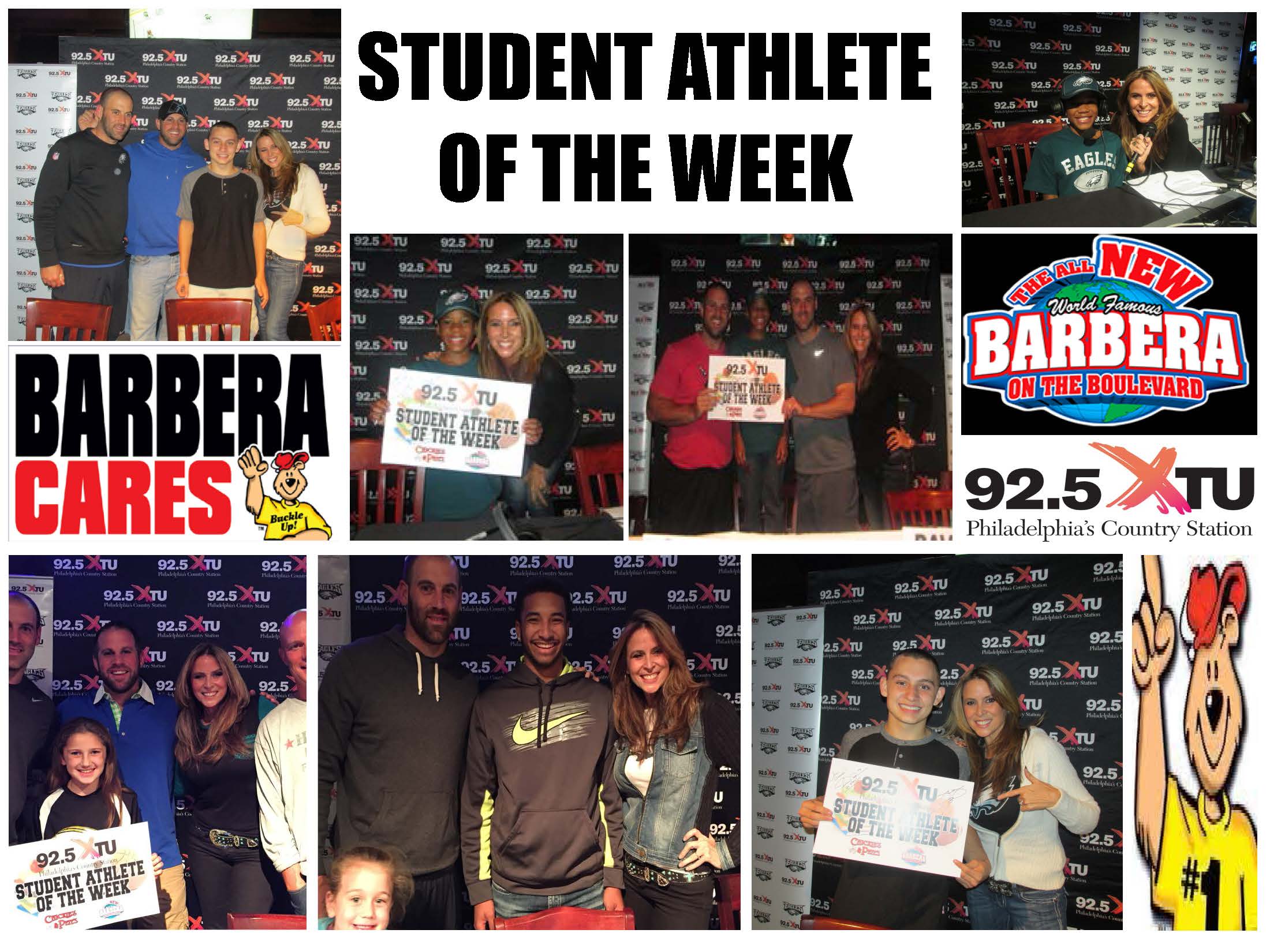 Barbera Cares and 98.1 WOGL
Loves Our Kids Radiothon
Listen to the Radiothon interview here: 98.1 WOGL Interview with Barbera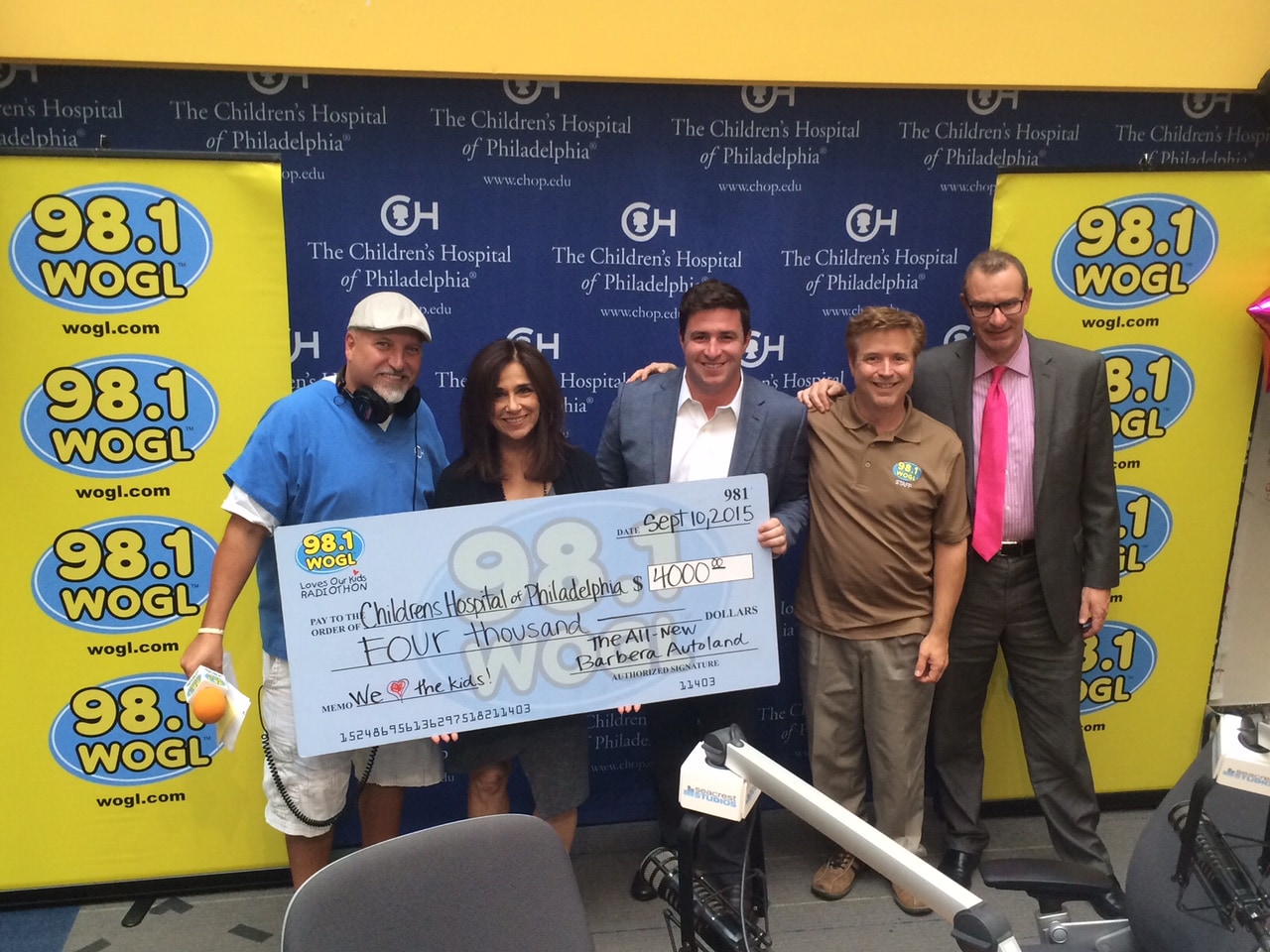 This year's 14th Annual 98.1 WOGL Loves Our Kids Radiothon took place September 10th and 11th! Last year WOGL raised $681,575 over four days!
Philanthropic donations power every lifesaving treatment and breakthrough discovery at The Children's Hospital of Philadelphia. By donating to 98.1 WOGL Loves Our Kids Radiothon, we're able to make a difference in the lives of children fighting debilitating illnesses and make extraordinary advances that will save the lives of countless children.
Barbera Cares and 102.9 WMGK
Veterans Radiothon
Listen to the Radiothon interview here: 102.9 WMGK Interview with Barbera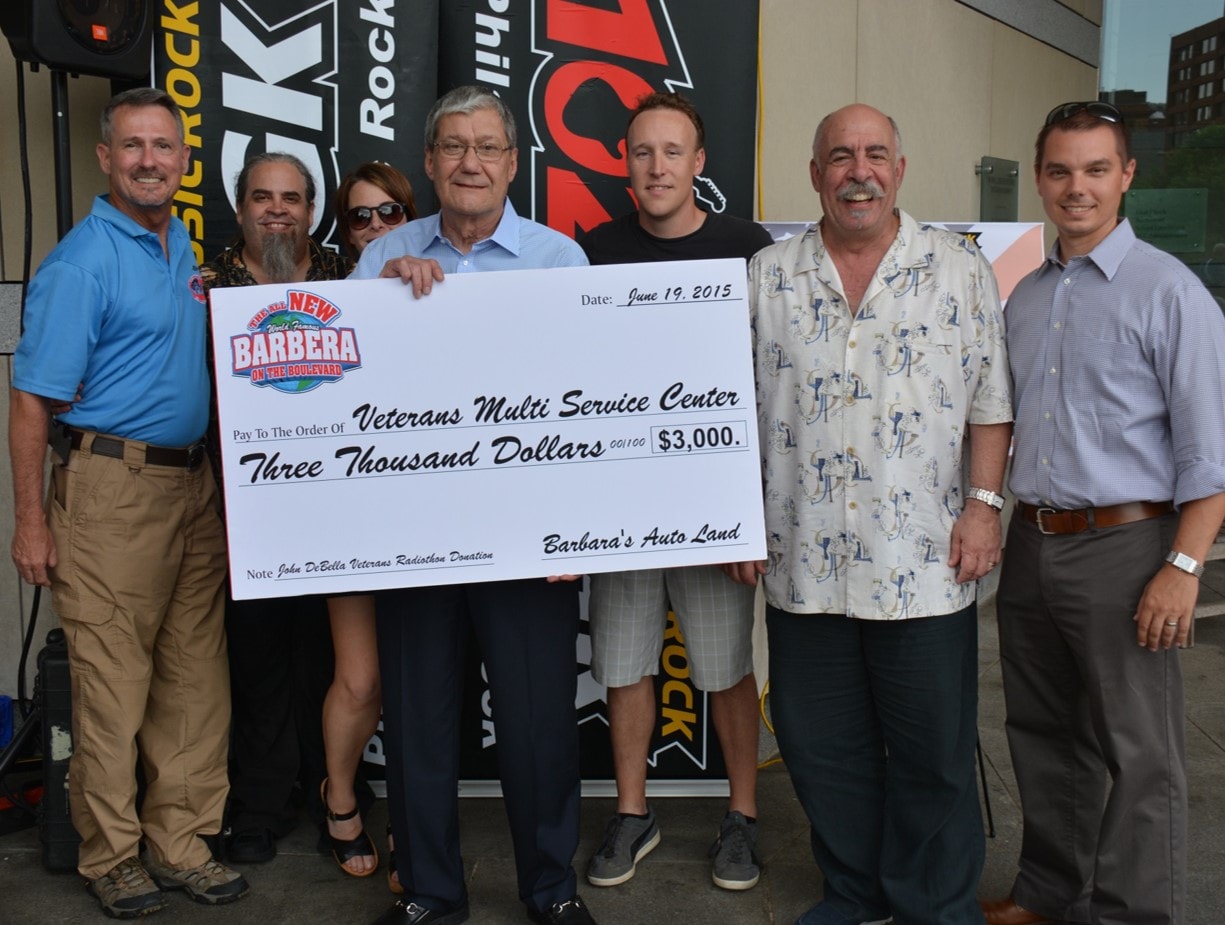 Check presentation with the John DeBella show
On Friday, June 19, Barbera Autoland participated in Radio 102.9 WMGK's Radiothon to support the Veterans Multi-Service Center (VMC). The event took place from 6 am until 6 pm at the National Constitution Center on Independence Mall. Along with receiving donations from listeners, the event featured local and national celebrities who called and stopped in to be part of the show.
With donations from local businesses, including Barbera Autoland, the radiothon raised $190,321. Barbera Autoland donated $3,000 to the event, and listeners were encouraged to make additional donations to match what we donated. At the end of the day, we were proud to support an amazing organization that helps more than 3,000 veterans and families annually.
Iconic morning show host John DeBella started the radiothon nine years ago because he wanted to use his audience's power to help veterans in the Philadelphia region get the support they desperately need.

Art Carita live with the John DeBella show!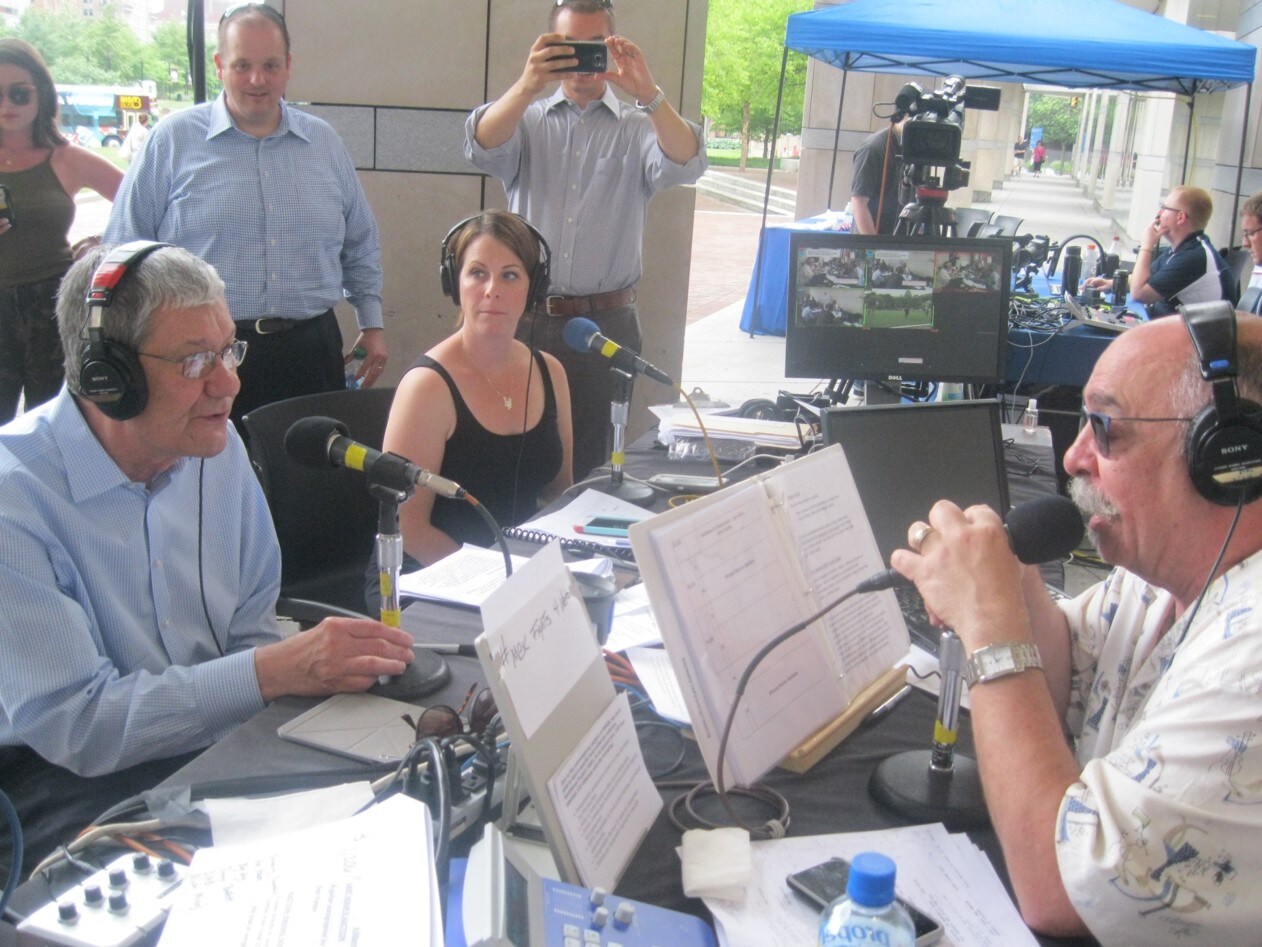 About the VMC
The VMC serves the veterans of the greater Philadelphia region. Along with providing approximately 175,000 meals to veterans in need, the VMC helps veterans find clothes and other basic living necessities, including furniture; acquire affordable housing; get in to career training programs; get job placement; and file for their VA benefits.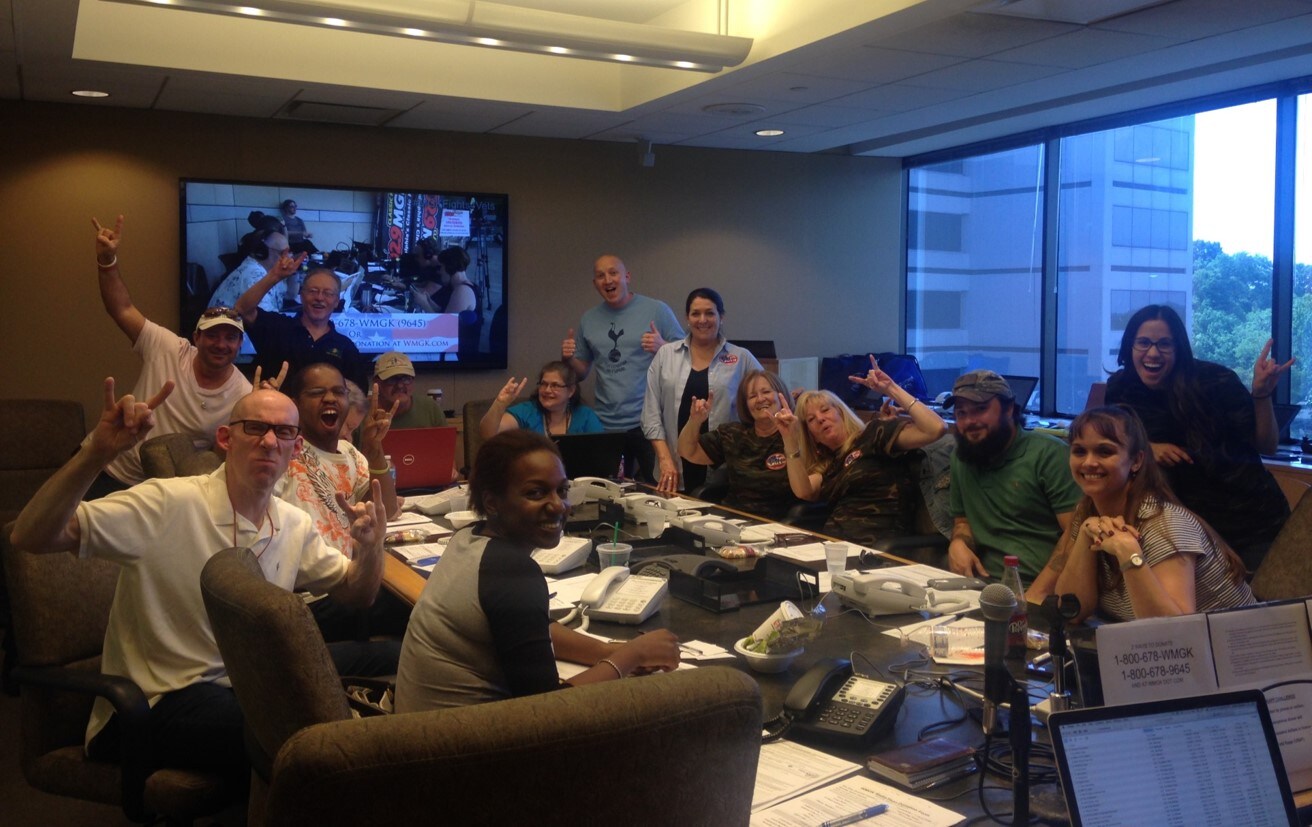 Along with all of the work that the VMC does directly for veterans, the US Department of Veterans Affairs selected the VMC to be a mentor and guide for other non-profit agencies that focus on veterans. The VMC's reputation for excellence and years of experience are just two reasons the organization was chosen.
top
BARBERA CARES sponsors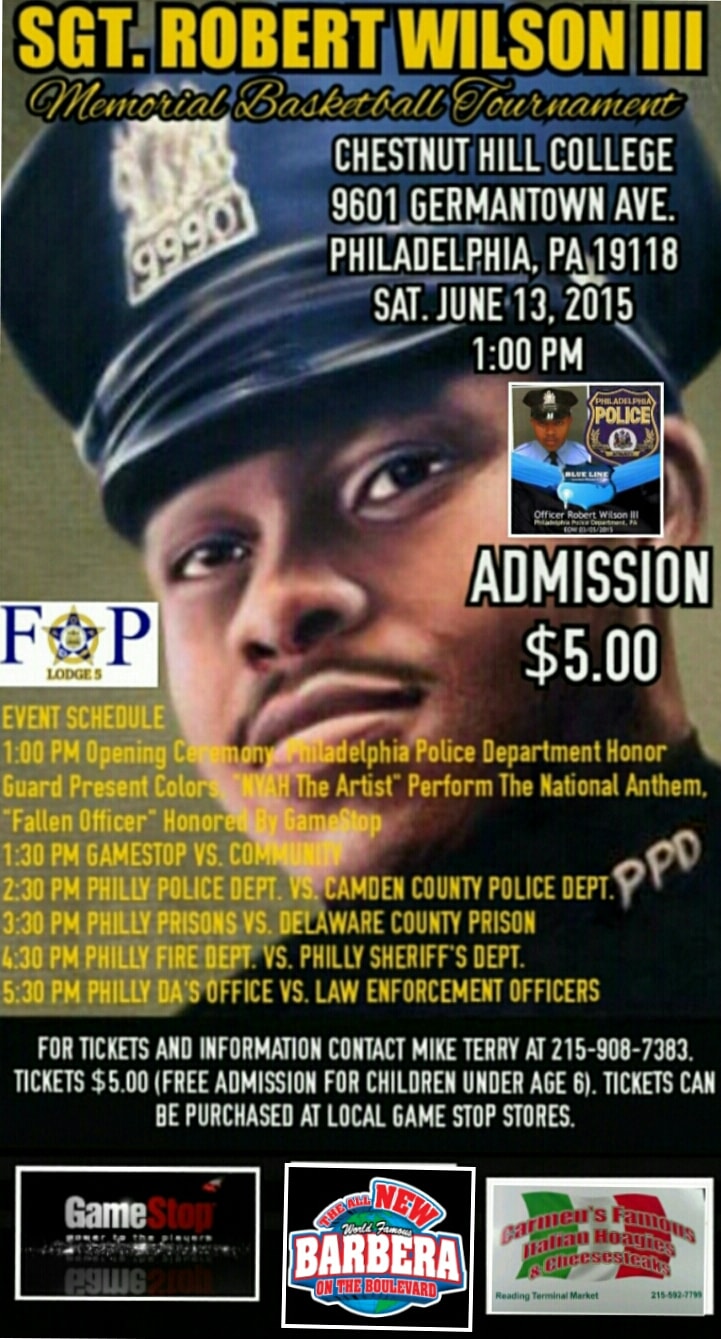 Sgt. Robert Wilson III Memorial Basketball Tournament
Saturday June 13, 2015 1:00pm
Chestnut Hill College, 9601 Germantown Avenue
Philadelphia, PA 19118
1:00 pm - Opening Ceremony / Philly Police Dept Honor Guard Present Colors / "NYAH The Artist" Perform the National Anthem, "Fallen Officer" Honored by GameStop
1:30 pm - GameStop vs. Community
2:30 pm - Philly Police Dept vs. Camden County Police Dept
3:30 pm - Philly Prisons vs. Delaware County Prisons
4:30 pm - Philly Fire Dept vs. Philly Sheriff's Dept
5:30 pm - Philly District Attorney's Office vs. Law Enf. Officers
top
United Methodist Church of the Good Shepherd Annual Car Show and Flea Market Fundraiser
Barbera Autoland was proud to be the lead sponsor for the Annual Car Show and Flea Market Church Fundraiser presented by United Methodist Church of The Good Shepherd on Saturday April 25, 2015 in Northeast Philadelphia.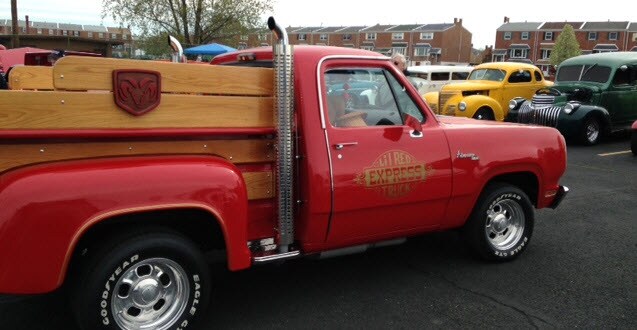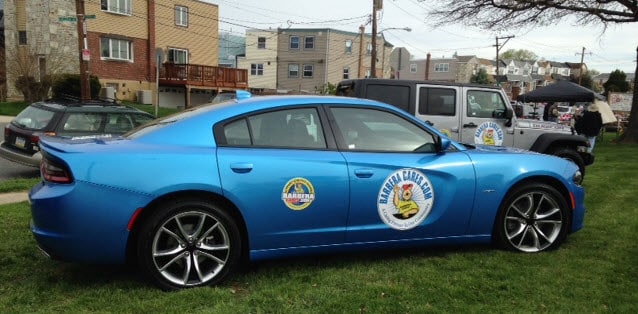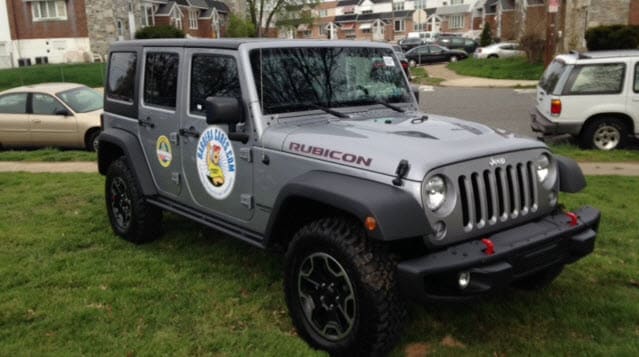 top
BARBERA CARES is Proud to Sponsor the following Spring Events in Our Community!
11th Annual Golf Outing Benefiting
the Philadelphia Academy Charter School
Barbera Autoland is proud to contribute a $500 sponsorship to the 11th Annual Golf Outing Benefiting the Philadelphia Academy. The event, to be held on on June 22 at Bensalem Country Club, will raise funds to benefit the Philadelphia Academy's mission to prepare students to achieve the highest level of their potential, whether academically, socially or morally. For more information about the Philadelphia Academy, visit http://philadelphiaacademy.org/.
Change-4-A-Dollar Philly All-Star Team
Barbera Autoland is a part-sponsor for 3 teams of inner-city children from Philadelphia who qualified for the 2015 Smallfry International Basketball Championship which took place in Disney's Wide World of Sports from April 3- 10 2015.
Change 4-A-Dollar is a non-profit organization that focuses on academic and moral elevation for elementary and middle school children.
Bowling for Kids Sake
Barbera Autoland was proud to donate $500 to Big Brothers Big Sisters "Bowling for Kids Sake" Event which took place April 19 1pm to 4pm at Laurel Lanes in Maple Shade, NJ.
top
Barbera Supports Family of Fallen Hero
Barbera Autoland made a $500 Donation to the Family of Fallen Hero Philadelphia Police Officer Robert Wilson III - His memory represents all that is good in our communities and the ultimate sacrifice that our Officers vow to take in order to protect our lives. We will continue to keep those who protect and serve us in our prayers.
top
Barbera Autoland Congratulates Tom Hessert on His ARCA Win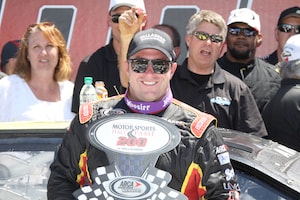 Our Philadelphia Dodge dealership, Barbera Autoland, would like to congratulate Tom Hessert on his win at the Talladega Superspeedway on May 3rd, 2014. This is Tom's fourth all-time ARCA win, which follows his most recent win in the summer of 2013. The ARCA Racing Series presented by Menards was tough, but Tom held the lead for the final three laps to secure his top spot.
Again we would like to congratulate him on his win, and we all look forward to many more.
top
Barbera Autoland Donates to School at 'For The Kids' Event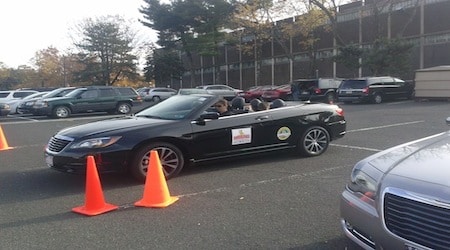 Barbera Autoland showed once again they truly care with the Chrysler's Drive For The Kids Event that took place this past weekend. At this particular event, Chrysler donated $10 per test drive, as Barbera's Autoland, our Philadelphia Dodge dealer, was able to participate in 108 test drives for the kids. The money donated later this month is to Our Lady of Calvary Elementary in Philadelphia, PA. Barbera Cares is proud of this prestigious event and great donation.
top
Thank You for Bringing Toys for Tots and Bikes to Our Philadelphia Jeep Dealership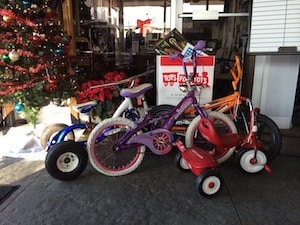 We would like to thank everyone who contributed to our Toys for Tots donations this holiday season. It is important to remember those who are less fortunate all year round, but toy drives like this help make the holidays special for the innocent children who can't do much about their situations. In addition to toys, our Philadelphia Jeep dealership also collected new bikes for children. We understand these items are cost, but many gracious residents from the surrounding areas stepped up and brought in a variety of bicycles.
Again, we would like to thank everyone who contributed to the Toys for Tots and bike collection at our Philly Jeep dealership.
top
Barbera Autoland Sponsors Blessings in a Backpack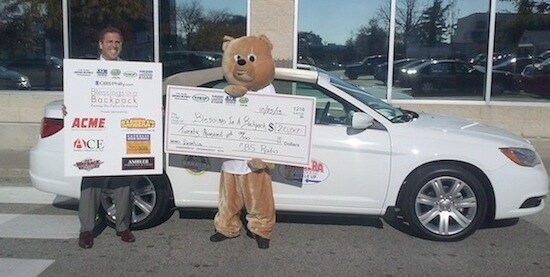 On Friday October 25, our Philadelphia Dodge dealer was a sponsor of the Blessings in a Backpack event! We were on hand at City Ave. Acme in the Bala Cynwyd Shopping Center presenting a check to the cause and stuffing backpacks full of food for elementary schoolchildren on the federal Free and Reduced Price Meal Program to take home. Barbera's Autoland wants to make life easier for families suffering from hunger in our community and we are proud to have taken part in this great event.
top
Walk for Wishes with Barbera Autoland
On Sunday October 20, Barbera Autoland will be supporting the Make-a-Wish® Philadelphia and Susquehanna Valley Walk for Wishes event. We're proud to help raise awareness and funds for making the dreams of local kids affected with life-threatening medical conditions come true.
We're excited to be a part of this great event and we'll even have vehicles on display for all to see! Come on down to the Morris Arboretium (100 Northwestern Ave. Philadelphia, PA and participate! Registration starts at 9 am, the walk begins at 10 am and the post-walk party for participants will be held from 11 am to noon.
To learn more about this event, please feel free to get in touch with our Philadelphia Chrysler dealer, Barbera Autoland and we'll answer any questions that you have about the Walk For Wishes event.
top
The Barbera Bear Visits Puerto Rican Day Parade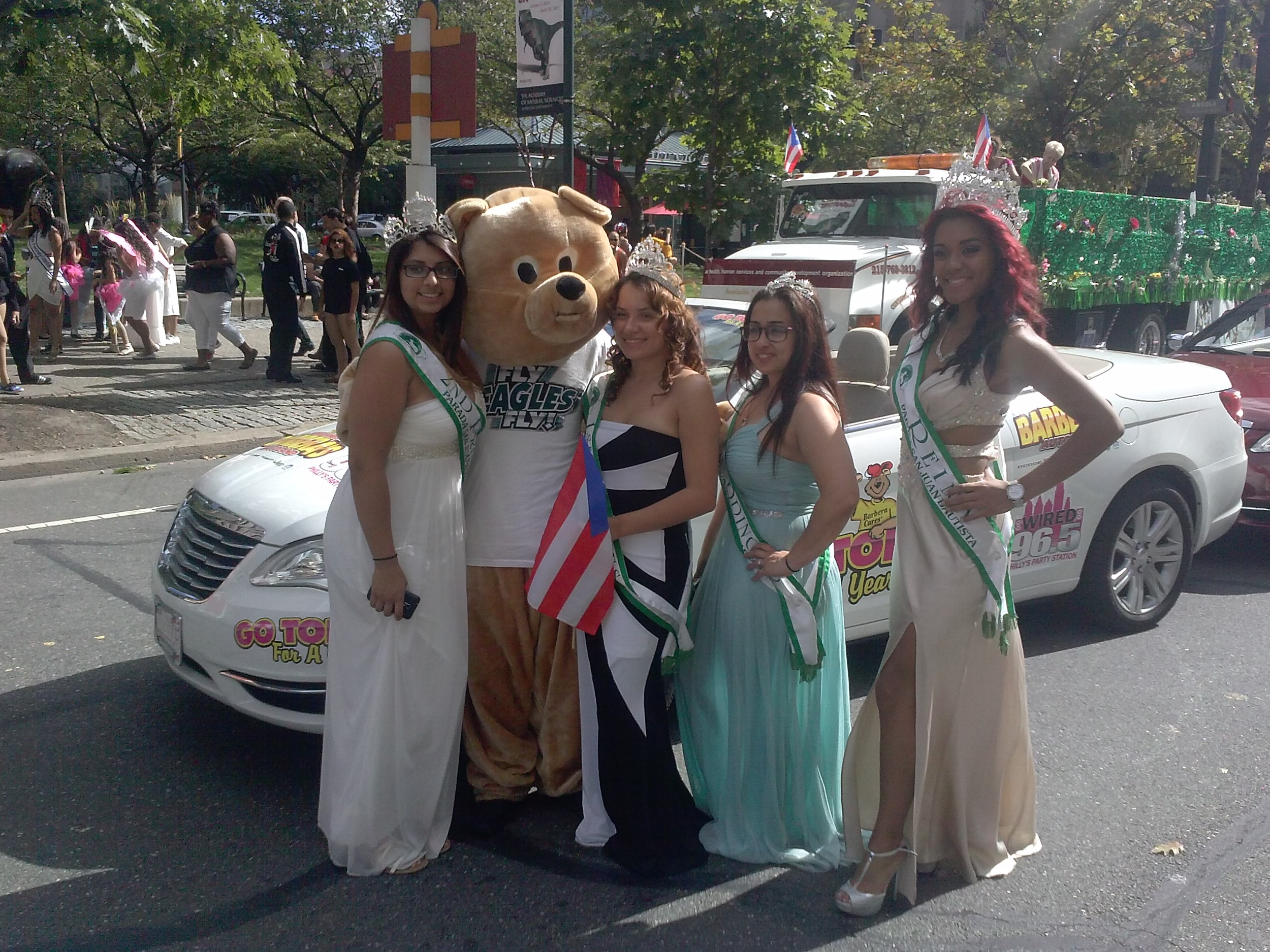 The Barbera Bear loves to hit the streets and enjoy Philadelphia in a Chrysler. If you head to events like the Puerto Rican Day Parade, you can see our buddy schmoozing with the pageant winners, posing with Ms. Pennsylvania, and hanging with his friend Leonardo from the Teenage Mutant Ninja Turtles who was on, boxer, Danny Garcia's float. Our Philadelphia Chrysler dealership set the Barbera Bear up with a Chrysler 200 Convertible outfitted with Barbera Autoland, 96.5, and "Go Topless" decals. The Barbera Bear loves to socialize, so you may see him out around town at different events like the Eagles and Phillies games!
top
Tyler Condrack Wins 2013 Wranger From Phladelphia Jeep Dealer
This year 6abc and Barbera Cares teamed up for "The 6abc Back to School Jeep Drive." The 6abc Back to School Jeep Drive invited "viewers to donate new school supplies to help deserving kids gear up for the 2013-2014 school year, while also offering viewers the chance to win a 2013 Jeep Wrangler." All school supplies were packed by 6abc team members in Disney backpacks and donated to the Police Athletic League for Distribution to local children. Supplies included Number 2 Pencils, Pens, Colored Pencils, Markers (Thin & Thick), Pencil Sharpeners, Erasers, Glue and Glue Sticks, Rulers, Pen/Pencil Pouches, Folders and Child-Safe Scissors. Also, there was a big winner of the Barbera Cares 2013 Jeep Wrangler.
On August 24, 2013 locals and visitors enjoyed a fantastic day at the Philadelphia Zoo. The Action News team gave out autographs while everyone in attendance enjoyed the tunes of Radio Disney. The Philadelphia Zoo animals were loved by all and hosted a lively event to be remembered! This glorious event also feature prizes and giveaways from event sponsor Barbera's Autoland, your leading Philadelphia Chrysler Dodge Jeep RAM dealer. This event marked the end of 6abc and Barbera Cares "The 6abc Back to School Jeep Drive". For over 22 years, Barbera Cares has been a caring partner in our community.
We are proud to announce our Barbera Cares 2013 Jeep Wrangler winner Tyler Condrack from Pottstown, PA! Tyler Condrack, who attends the University of South Carolina, won the Barbera Cares 2013 Jeep Wrangler. Barbera's Autoland, your leading Philadelphia Chrysler Dodge Jeep RAM dealer, is looking forward to the new school year by donating school supplies to local children in need and sending Tyler Condrack off to his sophomore year at the University of South Carolina in his new Barbera Cares 2013 Jeep Wrangler!
top
Dodge Dealer in Philadelphia Makes Game Day Fun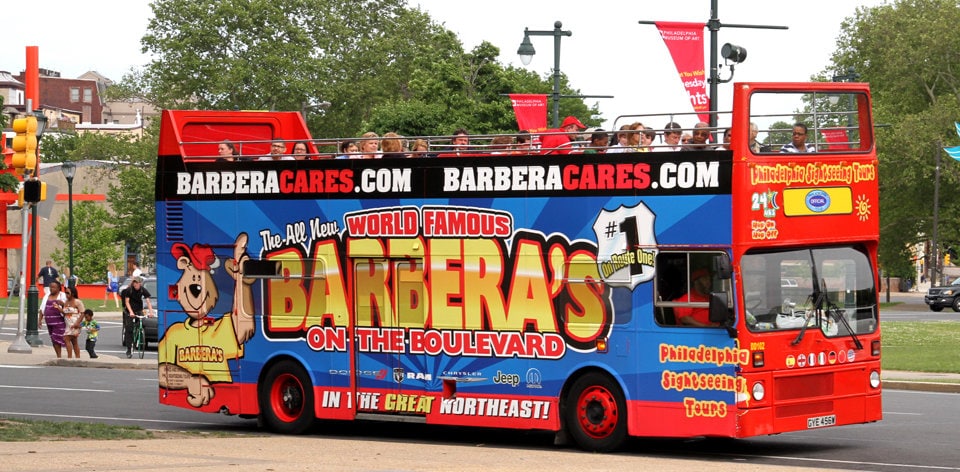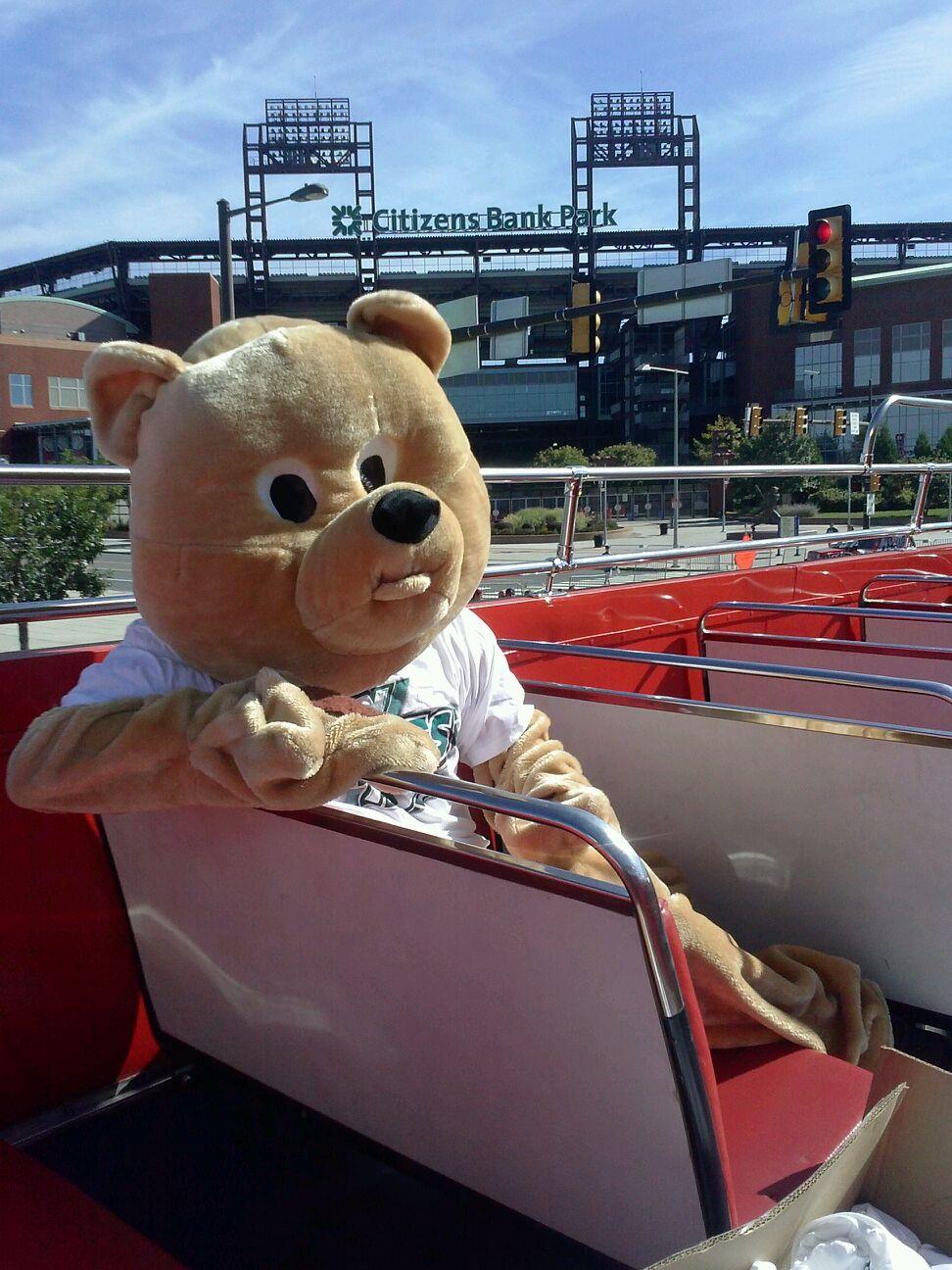 The Barbera Autoland Double Decker Bus drove around during the Birds home opener against the Chargers and the Barbera Bear was in attendance! For every home game during the 2013-2014 football season, be on the lookout for the Barbera Bear on the double decker bus. The premier Dodge dealer in Philadelphia, Barbera Autoland, will have it's mascot the Barbera Bear on top as it drives around the sports complex area. At Barbera Autoland, we are proud to support all of our home teams, the great city of Philadelphia and many local charities.
top
Barbera Autoland Participates in Back to School Jeep Drive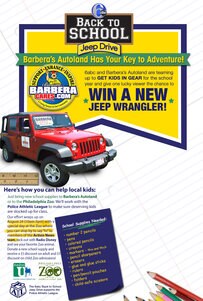 Barbera Autoland is teaming up with 6abc and the Police Athletic League to help local kids by accepting school supplies to donate. It's our goal to ensure that the kids in our area are ready for the upcoming school year with everything that they need.
By donating school supplies, you are helping the children in our neighborhood get the most out of their opportunity to go to school while taking some of the financial burden off of their families. We are now taking number-two pencils, pens, colored pencils, pen and pencil pouches, pencil sharpeners, erasers, crayons, markers, glue, glue sticks, rulers, folders and child-safe scissors.
You can give donations to our Philadelphia Jeep dealer, Barbera Autoland from now until August 24. On August 24 we will be at the Philadelphia Zoo with the Action News team and Radio Disney for a special family-friendly event from 10 am to 3 pm. You and your family can receive a discount to the zoo if you donate a new school supply at this event.
Now's the time to give back to the kids in our community, so simply give our Barbera Autoland team a call at 888-458-0230 to learn more!
top
Real 'Win & Drive Free' Contest Winners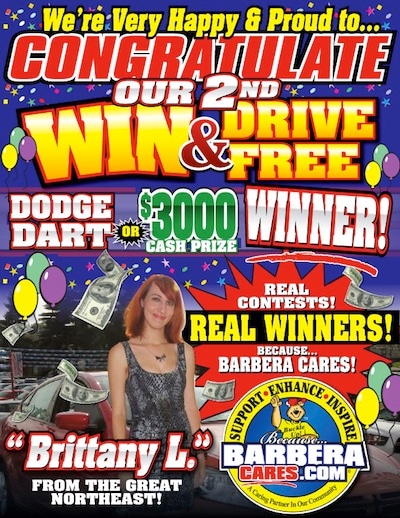 In order to celebrate the return of the Dodge Dart, and to reward our loyal customers, Barbera Autoland began to hold Win & Drive Free contests. By using its biggest asset, vehicles, our Chrysler Dodge Jeep RAM dealership serving Philadelphia is able to give back to the community and engage with our fans. In July 2013, many of our real shoppers entered the secondWin & Drive Free contest, and Brittany L. (pictured left) won!
We encourage drivers from all around Pennsylvania to enter our contests, so we can give back to as many communities as possible. Barbera Autoland enjoys delivering its shoppers the best experience and is happy to reward them for their loyalty.
top
Chrysler Dealer Serving Cherry Hill Extends Community Service Initiatives Once Again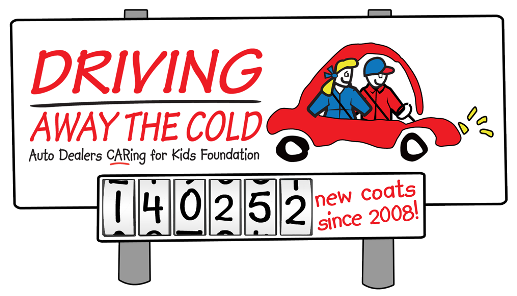 Cherry Hill Chrysler fans love the comfort and warmth of their favorite vehicle so our dealership knew helping keep our local community warm this winter would be the perfect way to give back! By participating the Auto Dealers CARing for Kids Foundation coat drive, we are all contributing to drive away the cold this winter!
Our local Chrysler dealership serving Cherry Hill, Barbera Autoland Chrysler Dodge Jeep Ram, is proud to have donated over $1,500 to the Auto Dealers CARing for Kids Foundation to help Drive Away the Cold this winter. What better way to celebrate the holidays than by giving back to our local community?
Cherry Hill Chrysler fans were happy to give the gift of warmth this holiday season to children less fortunate in our own area. With our help, the Auto Dealers CARing for Kids Foundation was able to distribute a total of 29,940 new coats to underprivileged children in the five-county Philadelphia area to prepare for the winter.
top
Chrysler Fans Help Keep the Community Warm
The coats collected were distributed through local branches of the YMCA to children in need of a warm coat faced with living in poverty. With help from our dealership and dedicated Chrysler fans, we were able to assist the Driving Away the Cold initiative as they continue to touch the lives of over 108,950 children since 2008.
The staff of our Chrysler dealer is committed to giving back to the community, especially in a way that helps the local children. For over 20 years, Barbera Cars has been an active staple in the surrounding communities and continues to extend its efforts by joining other organizations like the like Auto Dealers CARing for Kids Foundation.
For more information about the Barbera Cares Program visit our local Chrysler dealer serving Cherry Hill today! Barbera Autoland Chrysler Dodge Jeep Ram is conveniently locates at 7810 Roosevelt Boulevard, Philadelphia, PA.
top
Barbera Autoland Salutes the Success of Healthy Kids Day 2012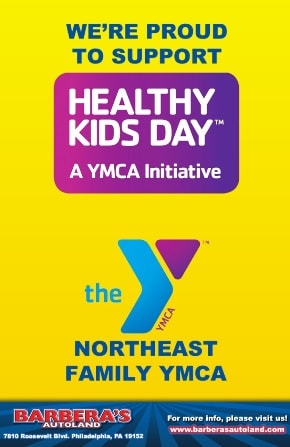 Barbera Autoland, and the Barbera Cares Program, hosted the 2012 Healthy Kids Day Event, a nationwide movement for family activity that promotes an active lifestyle and good nutrition in the Philadelphia community. Dodge, who also generously supported the event, also had a hand in contributing to a packed location. Families arrived at the Northeast Family Branch YMCA (11088 Knights Road, Philadelphia, PA) in record crowds. Being geared toward health and prosperity was an added accolade during Health Kids Day.
Barbera Autoland brought their Dodge Vehicle Line-up to the Northeast YMCA during their Healthy Kids Day. YMCA members and visitors to the fun-filled event were invited to test drive a Barbera Dodge and for every test drive $20.00 was donated to the NE YMCA for their Youth Development Program. By the end of the event 168 test drives were taken totaling a $3360.00 contribution!
The Barbera Cares Program participates in community activities to support, enhance and inspire the community and youth of Philadelphia. The Northeast YMCA is an important staple in the community for children of all ages and the young at heart.
If you are interested in joining the NE YMCA or in making a donation to the YMCA please call 215-632-0100. Donations are used to help subsidize membership fees for those who cannot afford the cost but who would benefit from the amazing programs offered.
top
Barbera Autoland Supports Widener Day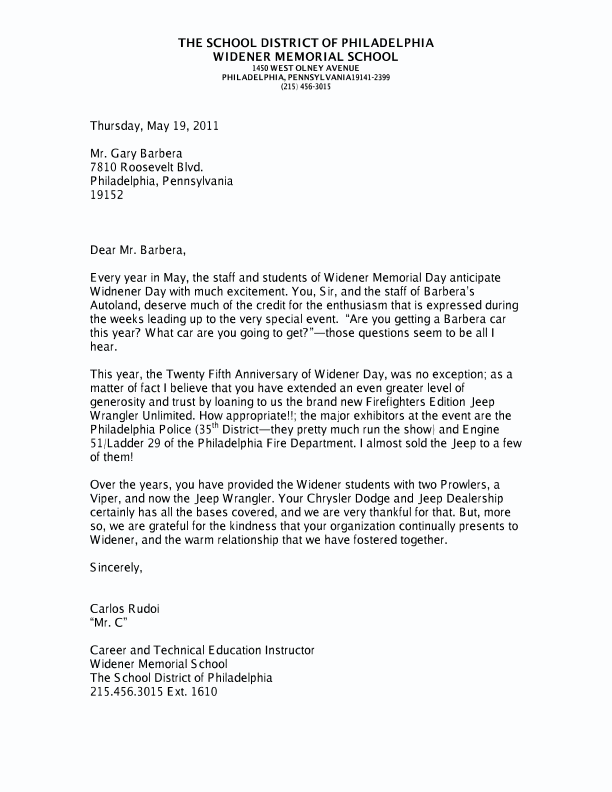 Barbera Autoland is proud to support the anniversary of the Widener Memorial School's Widener Day. Barbera's displayed a Firefighter's Edition Jeep Wrangler Unlimited, which was fitting as the major exhibitors at the event were the Philadelphia Police (35th District) and Engine 51/Ladder 29 of the Philadelphia Fire Department.
Barbera's Supports Philadelphia's Oldest Soccer Club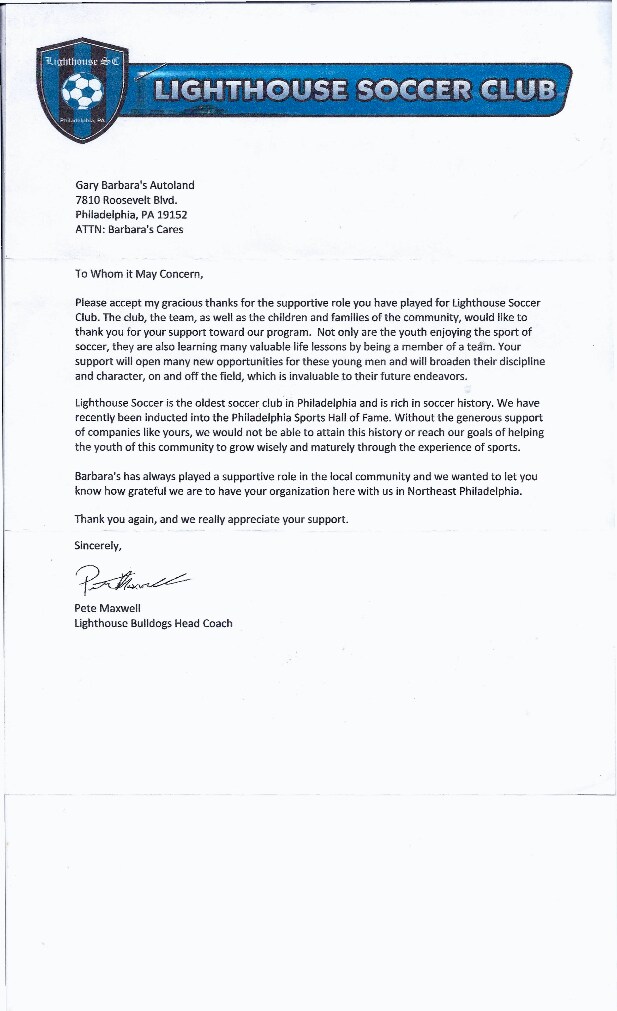 Lighthouse Soccer Club, Philadelphia, PA

Barbera Autoland is proud to support the youth and community of Northeast Philadelphia by continuing their support of Philadelphia's Oldest Soccer Club, Lighthouse Soccer. We hope that our support will open many new opportunities for these young players and help to broaden their discipline and character on and off the field.
Barbera Cares Hosts YMCA's Healthy Kids Day at the Northeast Family Branch YMCA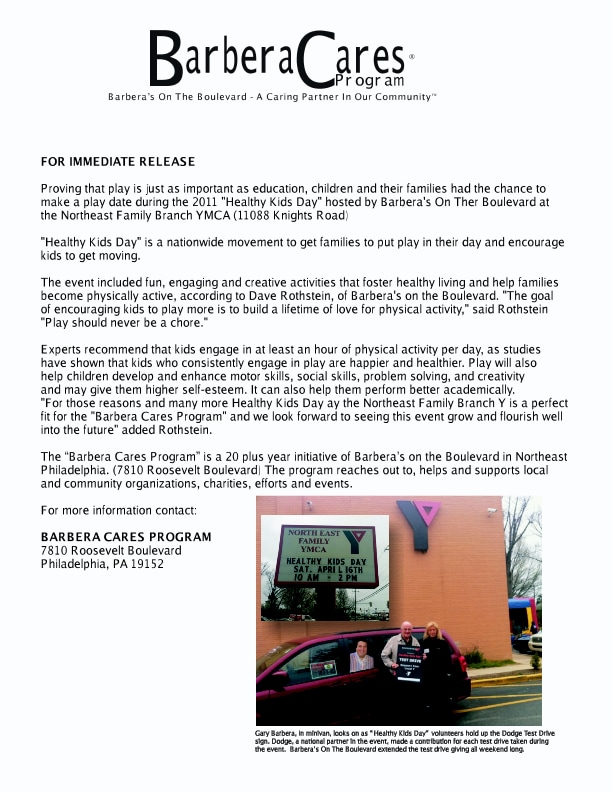 Proving that play is just as important as education, children and their families had the chance to make a play date during the 2012 "Healthy Kids Day" hosted by Barbera's Autoland at the Northeast Family Branch YMCA (11088 Knights Road).
"Healthy Kids Day" is a nationwide movement to get families to put play in their day and encourage kids to get moving.
The event included fun, engaging and creative activities that foster healthy living and help families become physically active, according to Dave Rothstein of Barbera Autoland. "The goal of encouraging kids to play more is to build a lifetime of love for physical activity," said Rothstein "Play should never be a chore."
top
-----------------------------
The "Barbera Cares Program" is a 20 plus year initiative that reaches out to, helps and supports local and community organizations, charities, efforts and events.
For more information contact:
Barbera Cares Program
7810 Roosevelt Boulevard,
Philadelphia, PA 19152
top