If you've been driving around Philadelphia these days, you've no doubt noted that SUVs rule the road here in the City of Brotherly Love. But while having that confidence-inspiring capability that SUVs offer is great for those who frequently commute through the Philadelphia area, there's no denying that the size of many modern SUVs isn't exactly conducive to nimbly navigating packed city streets. Fortunately, as one of the premier Jeep Brand SUV dealers in Philadelphia, we're well-acquainted with the realities of daily commute here in Philadelphia, and we'd like to introduce you to an SUV that's perfectly suited to it: the Jeep Patriot.
?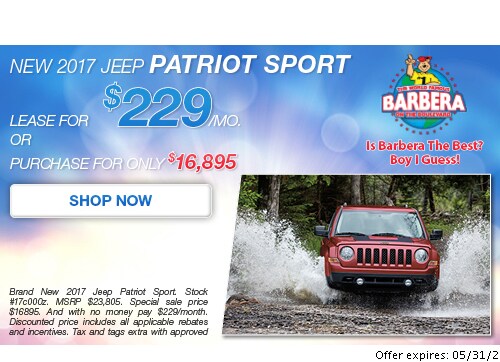 ?
Offering all the capability you'd expect of a Jeep Brand SUV in a conveniently compact form, the Jeep Patriot makes a compelling option for those looking to enjoy the best of Philly. At 173.8-inches long, the Jeep Patriot is large enough to comfortably seat up to five passengers inside, but small enough to easily fit into parallel parking spaces on packed Philadelphia city streets. What's more, this innovative Jeep Brand SUV boasts some truly impressive features. In fact, one that we're sure many Phillies fans will enjoy are the optional flip-down tailgate speakers, which are sure to prove a hit for tailgating parties before the game at Citizen's Bank Park.
Of course, there are any number of great Jeep Brand SUVs for sale at our Philadelphia, PA dealership that are sure to catch your eye. So, if you'd like to get a closer look at models like the Jeep Patriot, Jeep Grand Cherokee, or even the Jeep Wrangler, feel free to pay us a visit at Barbera Autoland to browse our selection of Jeep Brand SUVs and take the models you're most interested in for a test drive today!