​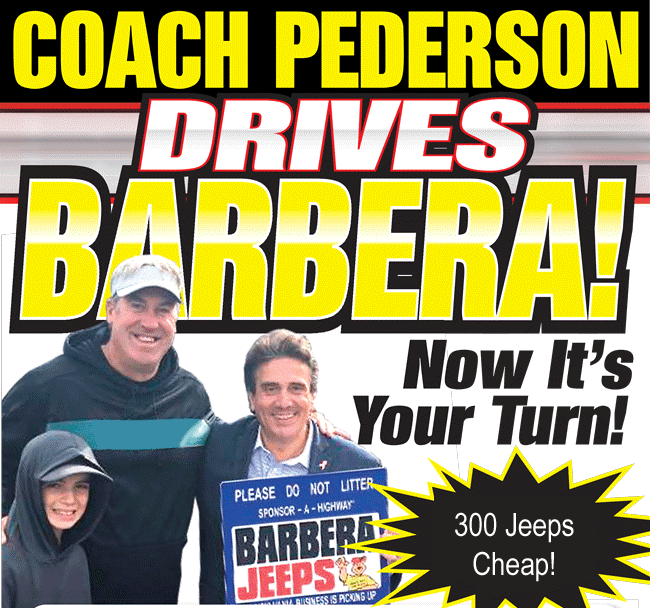 ​
We don't mean to brag, but how many dealerships can say they have a spokesperson that heads up a professional sport team? Not many, and at Barbera Autoland we're always happy to see Coach Doug Pederson of the Philadelphia Eagles come in when he isn't busy sending his team towards victory! It means a lot to us that he values our dealership and is putting his name on the (end) line by encouraging everyone to come in to shop our great selection. Now, if that isn't an endorsement, then we don't know what is!
Of course, you've probably received word of mouth about our dealership from a friend or family member, which is just as valuable. They've probably talked about a few things that really stood out to them.
#1: Our Huge Selection of Jeeps Cheap
We don't play around when it comes to stocking new Jeep brand SUVS for Philadelphia residents to buy or lease. We have well over 200 in stock, and many of them are our "used Jeeps cheap" that have affordable rates for buying or leasing. If you're looking for an SUV that's both good-looking and capable, then hustle into Barbera Autoland like you'd hustle for a touchdown to make Coach Pederson proud!
#2: We Care
Our only mission isn't just to sell cars. We also want to give back to the community we're apart of, and we do that with the Gary Barbera Cares program. In the past, we've donated coats to kids in need, given away turkeys for Thanksgiving, started distracted driving campaigns, and more! We work with many local organizations and do anything we can to support the area.
For more information on our new vehicles, the groups we work with, our budget-friendly used inventory, or what we think about the Philadelphia Eagle's plays for the season, stop into our dealership!