The Gary Barbera Community
Gary Barbera Cares - Supporting the Delaware Valley community for 30+ years
View Events Calendar
Latest Community News
Gary Barbera joins State Rep. Jared Solomon, Lawncrest Community Association members and neighbors to distribute 40-pound meal boxes supplied by the Philadelphia nonprofit
Share Food Program
.
From PHL17 Morning News: "Covid-19 and the collateral damages of this pandemic have caused hunger and food insecurity to reach disturbing levels. Hunger doesn't rest so every week since last Spring 700 boxes of food are distributed to neighbors on a first come first served basis. 'Some of our Lovely Lawncrest neighbors wait hours for these food boxes. We are all outside- volunteers and the community socially distanced, wearing masks either distributing food boxes or waiting in line for a box regardless of how hot it is, rain or snow, we are all there helping each other,' said Barbera."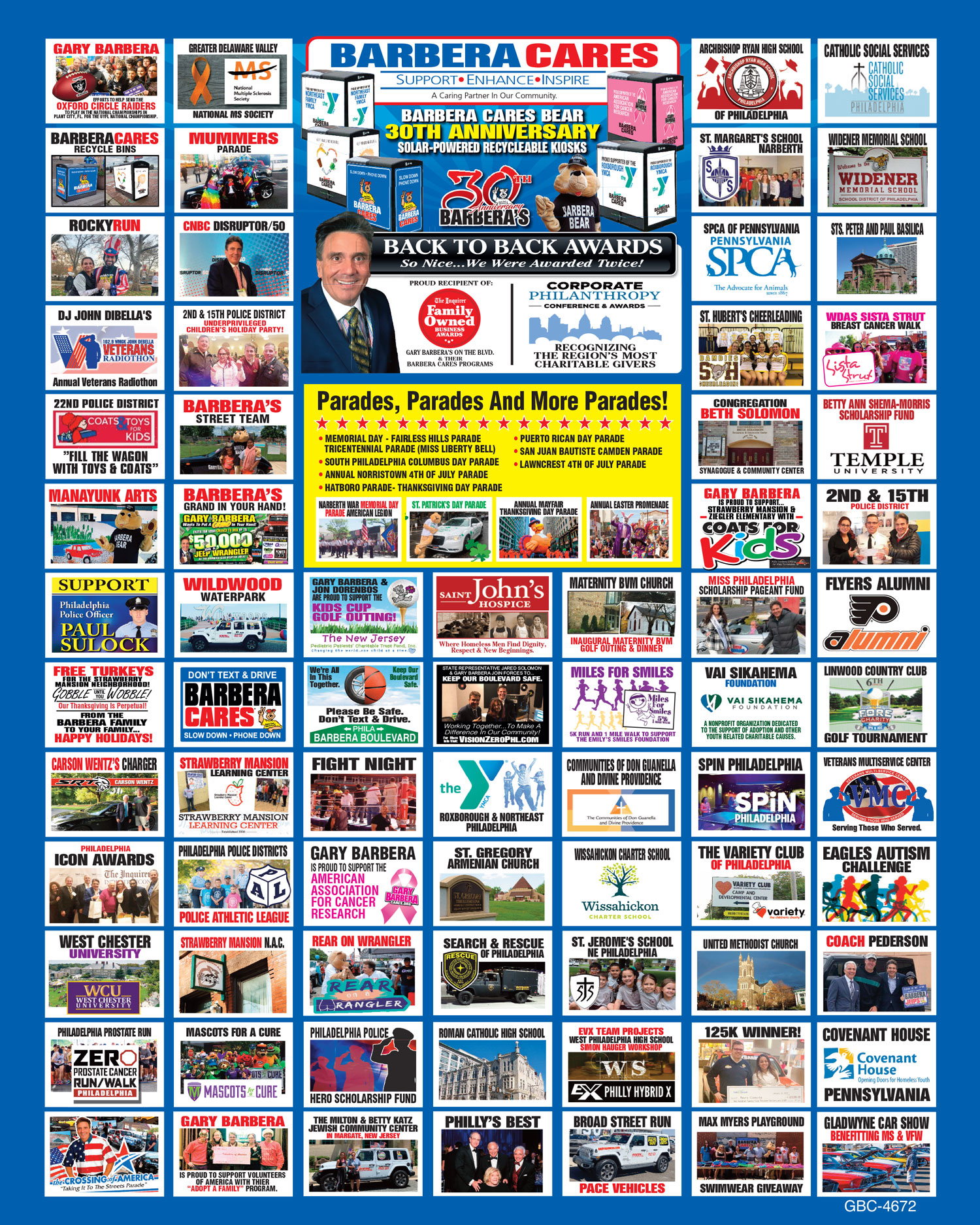 Barbera Autoland Philadelphia Dealership Supports Our Communities
While some dealerships only care about the sales they make, our team at Barbera's Autoland cares deeply about the people who shop with us. We've based our culture on treating visitors well so that they feel compelled to come back whenever they need anything, and our staff embodies this idea. We give back in any way that we can, working with many local charities and organizations to encourage and inspire to strengthen the sense of community throughout the region.
The Gary Barbera Cares Charitable Organization
After over 30 years of being in business, there is a lot that our team wants to do to help support the Cherry Hill, NJ and Langhorne region that has supported us. Our ability to create a positive change in our world starts with the Gary Barbera Cares organization. This organization was founded during the lucrative career of Gary Barbera to help give back to the community. Focusing mainly on youth programs, Gary Barbera Cares has impacted many communities throughout the region.
Unlike some other organizations, Gary Barbera commits more than just financial support; he commits his time. He can often be found with his street team at charitable events in the Delaware Valley region, most often with their iconic street machine hot rod. There are many partnerships that the Gary Barbera organizations has, working with charities like:
Camden Riversharks Toy Drive
Archbishop Ryan Alumni
NorthernHome for Children
Boys and Girls Club of Camden County
Northeast Family YMCA
Laurel House
NJ Pediatric Patients Charitable Trust
Jon Dorenbas Magic Show benefiting Eagles Youth Partnership
Todd Herremans Foundation
Peter's Place
And more!
We want to make it easy to find an event near you, allowing you to join us in supporting our community. We do many events near the Pennsauken, NJ and Jenkintown regions and look forward to seeing you at one! Feel free to contact our team if you have any questions or if you want to learn more about how our team is supporting the community.
A Trusted Team to Meet Your Automotive Needs
What continues to distinguish our team from others is that we want to provide the best for your life. This means we aren't going to push you towards a purchase that you don't want or that might be at the high end of your budget. Instead, we will find the service, parts, or models that are right for you. Your dealership shouldn't be stressful, and our team works to keep you smiling while shopping.
The relationship with our team doesn't end at the sale, ensuring you will always feel supported during your time of ownership. We provide clear and informative answers to your questions and try to find the right options for you. With new vehicles from Chrysler, Dodge, Jeep, and Ram for sale or lease alongside many used vehicles for sale from a wide range of manufacturers, we provide a value far beyond the price you pay.
Directions to our dealership are straightforward and easy to follow, giving you a trusted team when you are looking for your next vehicle. We can help provide you and your family with a dependable vehicle with features you will love, ensuring you have the confidence you need to tackle any commute, errand, road trip, or volunteer adventure!
Gary Barbera's On the Blvd

7810 Roosevelt Blvd.
Philadelphia, PA 19152-3805