About Car and Truck Batteries
Your vehicle charging system is really quite simple. It only includes a few parts: the battery, charging cables, and alternator. 
When your vehicle is running smoothly, the battery is charged by the alternator through the charging cables. Unfortunately, much like household batteries, car batteries and truck batteries will eventually need to be replaced. On average, car batteries can last three to five years, while some last longer and some last for less time. The lifetime of your vehicle's battery depends on how you use your vehicle.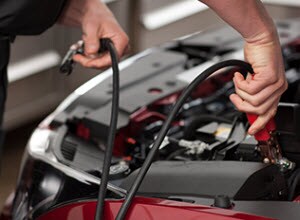 If you spend a lot of time idling, running electronics in your vehicle, and leaving the lights on in the vehicle, your car battery won't last very long. But if you make long driving trips and not idling for extended periods of time, or using your electronics while the vehicle is off, you can experience a long battery life.
Signs That Your Car Battery Should Be Replaced
There are several signs that you can keep an eye out for that will let you know when it's time to replace your car battery or truck battery. In fact, you've probably experienced at least one of these at some point. 
• Sign #1: Your vehicle's electronics don't work as they should. For example, the air conditioner may not produce cold air or the radio volume may remain low despite increasing the level. Signs such as these all indicate that your vehicle's battery is likely dying and should be replaced as soon as possible. 
• Sign #2: Your vehicle won't start the first time that you turn the key in the ignition. This is a sign that your car or truck battery needs to be replaced promptly. If your vehicle does start, take it directly to the service department at Barbera Autoland because it may not start again. If your vehicle doesn't start, you'll need to purchase a replacement battery or have your vehicle towed to Barbera Autoland. 
Both of these signs indicate that your vehicle battery needs to be replaced. Because of how car batteries operate, you'll want replace yours as soon as possible since there's no definitive timeline as far as how long the battery will last once you beginning noticing these issues.
Replacing Car Batteries and Truck Batteries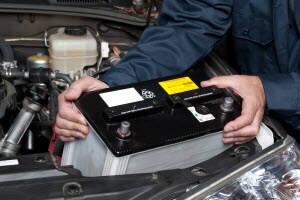 Replacing car batteries and truck batteries is easy with the professionals at Barbera Autoland. We offer a wide range of automotive services, including battery replacement, for your convenience. Let us take care of your vehicle and we'll have you back on the road in no time. 
Barbera Autoland is conveniently located at 7810 Roosevelt Boulevard in Philadelphia, PA. We offer convenient hours and excellent customer service every day. We're here to take care of your vehicle Monday through Friday from 7 am until 7 pm and Saturday from 7 am until 4 pm. To make an appointment for your car battery replacement, call us at (888) 459-2131 today.