The best way to get a customer to come back to your lot with repeat business is too provide the best initial experience. Cherry Hill Chrysler shoppers who are looking to leave a new car lot happy should choose one with positive reviews.
As a leading Chrysler dealer near Cherry Hill, Barbera's Autoland strives to offer its customers the best experience. A happy customer is a repetitive customer, and also one that will voluntarily praise the dealership.
Other dealerships can say they are the best all they want, but Barbera's Autoland has proof they are a top Cherry Hill area Chrysler dealership. Their customer service has lead to positive reviews online, and recommendations from their current customers to their family, friends, and acquaintances.
What The Customers Have To Say About Barbera's Autoland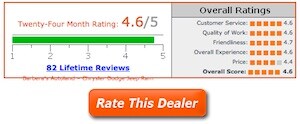 Thanks to DealerRater.com it is easy for automotive dealerships to get feedback from their customers. This type of tool may be scary to some dealers, but Barbera's Autoland is completely confident in its customer relations they openly invite shoppers to rate them and write a review.
Currently this Chrysler dealership near Cherry Hill has 80 Reviews from 2012 to today. These reviews average 4.6 out of 5 based on Customer Service, Quality of Work, Friendliness, Overall Experience, and Price.
One current review leaves and outstanding impression:
"Sie Saunders provided outstanding service as a sales representative. Very knowledgeable, personable, and patient. He made the experience quite enjoyable by creating a friendly and relaxed atmosphere. The Dodge Dart is an awesome car and I am getting rave reviews by family and friends. I clearly made the right choice and have nothing but positive comments for Barbera on the Boulevard.
Will Hildreth"
This customer is not only so happy with their experience that they gave a five-star rating, but went as far as to mention the specific sales representative, car bought, and leave his actual name.
If you are looking for the best auto shopping experience, then head to Barbera's Autoland. Cherry Hill Chrysler shoppers can find out more about what makes this dealership so great by calling 877-485-6591 or visiting https://www.barberasautoland.com/dealer-rater/index.htm.
Authored by: Bella Barbera. Bella is the Mascot and talented Blog writer for Barbera's Autoland. Bella is always on the look out for Philadelphia news and great deals on new and used cars, trucks and SUVs at Barbera's Autoland : Jeep Chrysler Dodge Ram dealership in Philadelphia.