Well folks, it's the Friday of Memorial Day weekend here in Philadelphia, and if you're anything like many drivers around the metropolitan area, you're positively itching to get out of work right now. You've no doubt got some big weekend plans, and whether you're planning on enjoying the holiday weekend in Philly with friends, or getting out to nearby Langhorne, Norristown, Jenkintown, or Cherry Hill, NJ to spend time with family, you'll want to be behind the wheel of a capable SUV that's as ready to have fun in the city or the countryside as you are. Fortunately, it just so happens that many of the new Jeep Brand SUVs we have for sale at our Philadelphia, PA dealership are well-equipped for just that.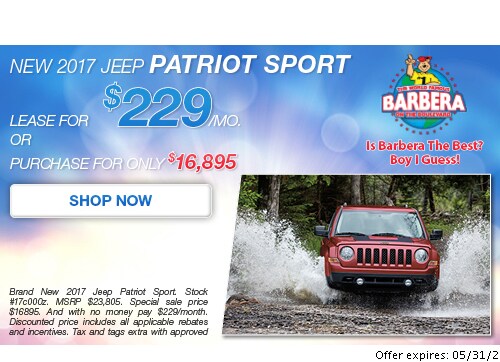 ?
As a premier Jeep dealership serving the greater Philadelphia, PA area, we know that folks around here spend a lot of time on the road around Memorial Day weekend, and they want a car that can keep up. Fortunately, with models like the new Jeep Patriot for sale here at Barbera Autoland, you'll have an SUV that can match your pace, and then some. In fact, with available features like its power sunroof, available GPS navigation, and even flip-down liftgate speakers, you'll find the Patriot is perfect for open air cruising to your favorite Memorial Day weekend hangout locations in nearby Langhorne, Jenkintown, Norristown, and Cherry Hill, NJ, and playing some tailgating tunes when you get there to boot.
With all its fresh features and some pretty impressive off-road capability on top of that, the new Jeep Patriot makes the perfect fit for Philadelphia drivers looking to enjoy the best of Pennsylvania this summer. So, if you'd like to get behind the wheel of this incomparable compact SUV, feel free to pay us a visit this Memorial Day weekend to test drive the new Jeep Patriot at your earliest convenience.