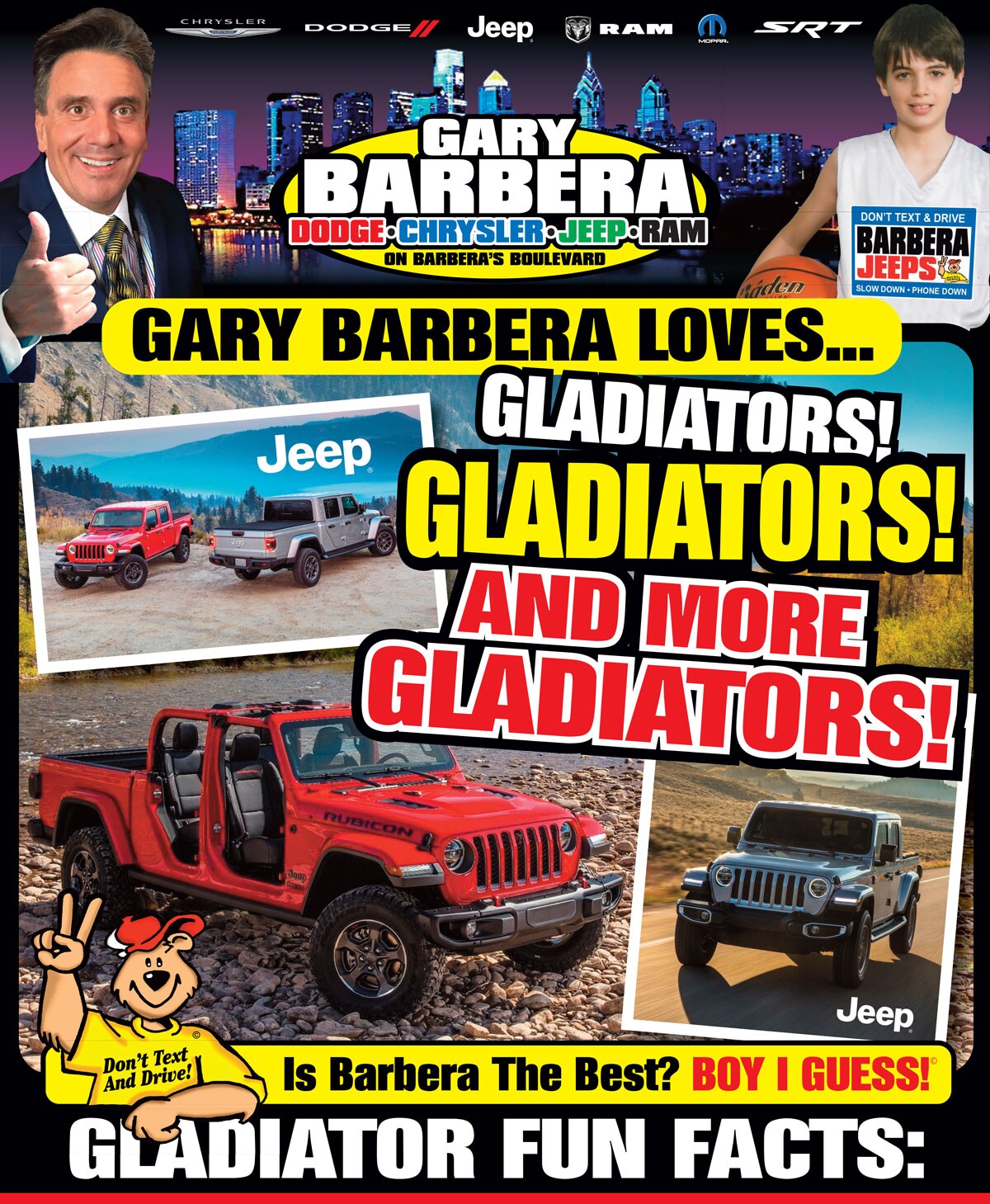 Fun Facts about Jeep Gladiator 
Yup, thats right! The long awaited 2020 jeep Gladiator pickup is back and better than ever. The Gladiator will be the most off-road-capable truck in stock form. If you're looking for a pickup that will get you through challenging terrain, the gladiator is your go-to pickup truck. Gary Barbara has found some awesome things about the Jeep Gladiator that makes it one of the most exciting vehicles to hit the market in the past decade! 
If you love your Wrangler, you'll LOVE the gladiator 
The Gladiator is all Wrangler. From the overall look of the gladiator to the legendary capability, it offers all of the same benefits as the Wrangler. The roof and doors come off and the windshield folds down. The opened-air jeeping is enough to justify the Gladiators existence. No other pickup on the market can do that. The Gladiator offers endless options when it comes to customization and personalization. 
The Pickup Bed 
In place of the Wrangler cargo bed, the Gladiator has a 5-foot long pickup bed which is similar to any of the other mid-size pickup trucks on the market like the Toyota Tacoma, Ford Ranger, Honda Ridgeline and the Chevy Colorado. The Gladiator offers 7,650 lbs of towing capacity and 1,600 lbs of payload. 
The Spare Tire 
For those who love the outdoors and enjoy going off-road (most jeep owners), know that having a spare tire is essential. When you go off-road your chances of getting a flat tire increase tremendously. So, having a spare in the back comes in handy in you your time of need. The Gladiator is equipped with a full-size spare tire, which is tucked underneath the truck bed, behind the rear axle. 
The solid front Axle 
The Gladiator is the only non-heavy-duty pickup trucks offered with a solid front axle. This is perfect for low-speed-off-roading. It also comes with third generation Dana 44 front and rear axles. 
The Gladiator Name 
The Gladiator isn't Jeep's first Gladiator. The history of the Gladiator goes way back. The name came from the original Gladiator that hit the market in the early 1960s. It was the first 4-wheel-drive truck to have an automatic transmission. Productions of the gladiator ended in 1972, when it was changed to just the Jeep J series pickup. The 2020 model is the first pickup to come back on the market since 1992.