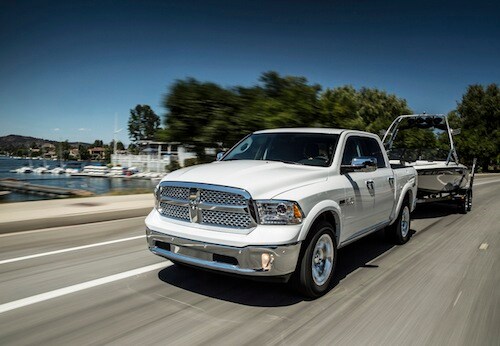 You work hard and you need a vehicle that will work just as hard or harder. RAM offers Abington drivers what they need through proven performance that gets toughest jobs done. Whether you are looking for a standard pickup, heavy-duty pickup, chassis cab, or even a utility van, Barbera's Autoland has a RAM for you.
Keep the Construction Coming: Our RAM Models are Built to Last
Starting our lineup, and setting the bar very high for performance, is the RAM 1500. This is one of the most awarded half-ton pickup models available and, with its many cab and bed options, there is little question why. And yes, this pickup can pack a V8 HEMI®.
Have a job that calls for more power? Heavy Duty models like the RAM 2500 and 3500 are ready to go when you are. When the 3/4-ton 2500 or full-ton 3500 rolls up to the job site, their statures are enough to show who is boss. Only our Chassis Cab models that reign supreme in towing and hauling can dwarf the Heavy Duty models.
Of course not everyone needs a pickup. Some contractors have to favor accessibility and space for certain equipment and materials, which is why the Tradesman C/V is perfect. This customizable cargo van can cater to your needs with a variety of seating and storage options.
Our Dealership Helps Construction Workers Get the Most Out of Our RAM Models
Whether you are a one man wrecking crew or the head of an entire fleet of workers, Barbera's Autoland has something special to offer for you. Chrysler Group's "On The Job" incentive program gives construction workers multiple benefits. You can get a cash allowance to put towards one of our RAM models for you or a same-household family member.
This incentive can help get you in a new truck, and our RAM service center serving Abington will help you keep it in the best condition possible. You are going to put a lot of wear and tear on your pickup, and, with routine maintenance and professional repairs, Barbera's Autoland will help keep it running strong.
Ready to ride in a RAM? Please call (888) 458-0230 or visit Barbera's Autoland, the former site of Gary Barbera's #1 Chryslerland, today.
View Larger Map